How to Find Cheap Sale on Gift Cards
It used to be that gift cards only sold for face value, and you would rarely (if ever) find a sale of any kind on a gift card. But merchants have figured out that customers who come into their stores to redeem gift cards are profitable customers, because they (i) are more likely to buy full-priced merchandise than customers spending their own money, (ii) will likely overspend the value of their gift cards, and/or (iii) will make multiple trips into the store to redeem their gift cards. Merchants who want more of these shoppers in their stores offer discounts on their gift cards to lure both gift-givers looking to save money on gifting and savvy shoppers who buy discount gift cards to save on their own planned expenses.
So where can you find great deals and savings on gift cards? Well, you've got several choices, but first let me clarify the difference between two types of gift cards that sell for less than face value. First, there are pre-owned discount gift cards that are sold through gift card resellers. And secondly, there are new gift cards for sale at a variety of physical and digital locations. Here is a little bit more info:
Pre-owned discount gift cards exist because sometimes people receive gift cards they don't want. For various reasons (e.g. they prefer another brand, the store is too far away, they are saving for something else, etc.), people sell unwanted gift cards for cash offers that are less than the face value of their cards. Gift card resellers then sell these cards for a little bit more but still less than face value. That's where the discount comes in–the difference between the dollar value on the gift card and the amount the reseller paid to the original owner for the gift card.
New gift cards on sale are simply gift cards that are sold for less than face value. Additionally, sometimes merchants offer bonuses for buying a full-priced gift card rather than discounting the initial activation. These bonuses might come in the form of a second free gift card (BOGO: Buy One, Get One), a reward card that is good for a limited period of time, a coupon for future purchases, fuel perks or other incentives.
With those two nuances in mind, let's get to the list! Below are the 10 best places to find gift cards on sale:
1. Gift Card Resellers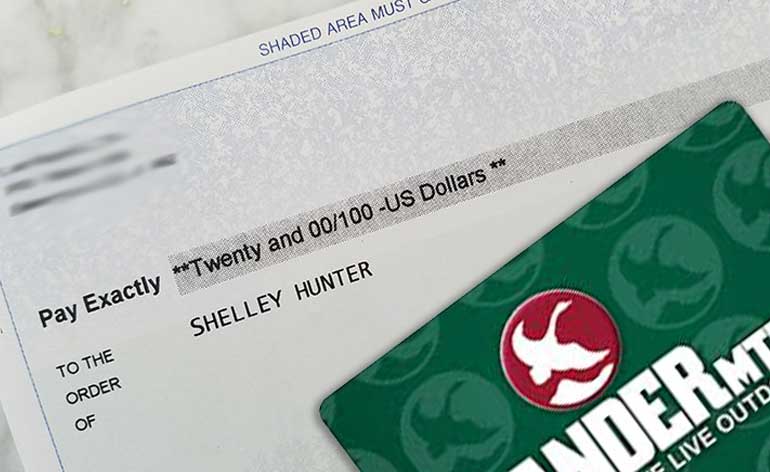 The best thing about buying pre-owned discount gift cards from a gift card reseller is that a wide variety of gift cards are always on sale. From shoe stores to pet stores and restaurants to movie theaters, you can guarantee savings if you buy discount gift cards before shopping at your favorite stores and restaurants. Of course, the number of cards available and the dollar amount you can save fluctuates with changes in inventory and seasonal availability, but there is nowhere better to dictate your own discount.
When selecting a gift card reseller, be sure to choose one that offers customer support and has a money-back guarantee you can rely on if there is a problem with the card you buy.
HERE'S A TIP! The best way to take advantage of pre-owned discount gift card deals is to be flexible in where you shop. If you want to buy a new pair of Nike tennis shoes, for example, check for discount gift cards to stores like Nike, Foot Locker, Macy's, Champs and any other store that sells the shoes you want to buy. Then buy the gift card that offers the best discount to save the most money on your next set of kicks.
2. Daily Deal Sites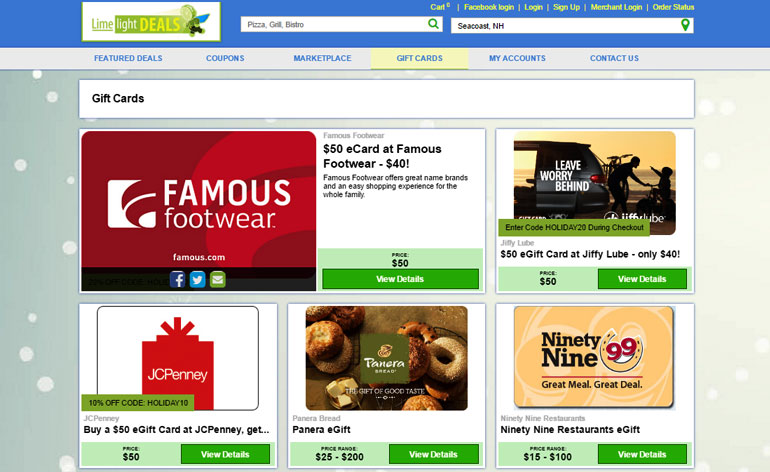 The next place to look for discount gift cards is your favorite daily deals website. NimbleCommerce , the leading digital commerce platform for promotions, has over 800 publishers including sites like Restaurant.com, DoubleTakeDeals, TravelZoo and more.
Each of these publishers sells products (e.g. name brand charm bracelets, watches, boots and more) and services such as travel deals, concert tickets, amusement park passes and spa days–all at a discount. Gift card savings are often on the daily deals menu.
One of the great things about buying gift cards from a daily deals site is that you can find combo offers such as savings on dinner plus a movie. On a recent check of Restaurant.com, I found an offer for a movie ticket plus a $25 restaurant gift card for just $14.99. I love that.
In addition to the sites listed above, look for discount gift cards at these daily deal sites as well: TwinCities.com Daily Deals, The San Diego Union-Tribune Daily Deals, Just Deals and Restaurant.com.
HERE'S A TIP! Be sure to subscribe to the sites you like so you can receive email alerts when new offers come through. If you are in search of a particular gift card, then use the advanced search function to look for the gift cards you want. Many publishers will even allow you to subscribe to a certain merchant so you can be specifically notified of deals coming directly from that business.
3. Staples.com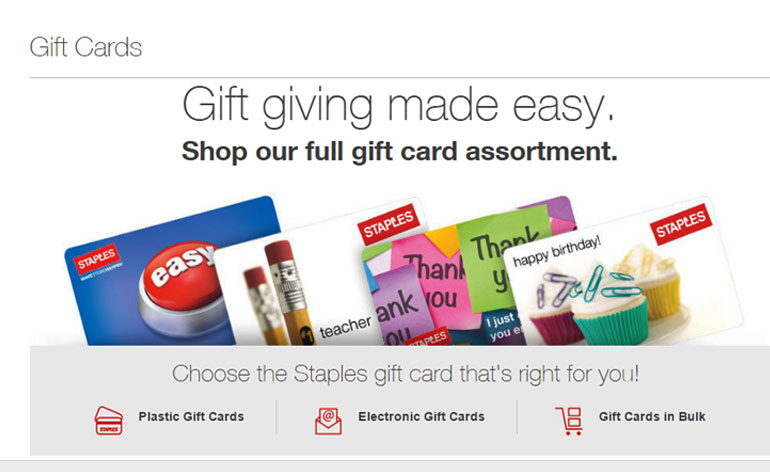 When I say Staples.com, you probably think of a website for buying copy paper, binders, marking pens and more. And you'd be right. But Staples.com also offers discount gift cards for some of the most popular merchant brands in the country. And the discounts are GOOD. Staples.com regularly offers discounts on gift cards for iTunes, Gap Brands, Sephora, Applebee's and many more stores and restaurants. It's also not uncommon to see gift cards on sale for 10 to 20% off or to receive a bonus gift card with the purchase of another. So the next time you want to save on new gift cards, give Staples.com gift cards a look.
HERE'S A TIP! The discount gift cards offered on Staples.com are available in limited quantities and they sell out quickly. When you see a discount gift card offered, act fast to get your savings while supplies last.
4. eBay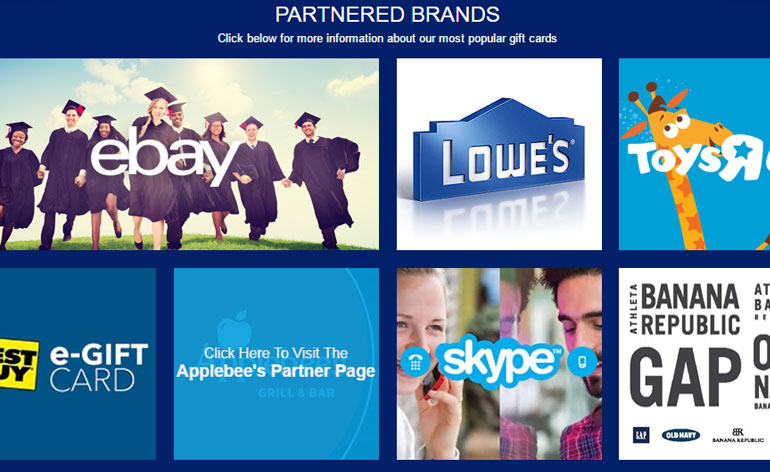 When eBay.com first launched, it was an online marketplace for individuals to sell their new and gently used products. Soon after eBay became popular as a person-to-person sales website, however, retailers jumped into the program to sell their products and services as well. Although stores initially used eBay to sell refurbished, discontinued or returned merchandise, many now sell new products as well. That list of products available includes gift cards that are sometimes sold for less than face value. If you want to see what discount gift cards are available, the best place to look is on PayPal's Digital Gifts store on eBay.
HERE'S A TIP! Although you may find discount gift cards on eBay that are sold by individuals, exercise caution in buying gift cards from any person who cannot offer you a money-back guarantee if there is a problem with the gift card purchased.
5. Mobile Phone Apps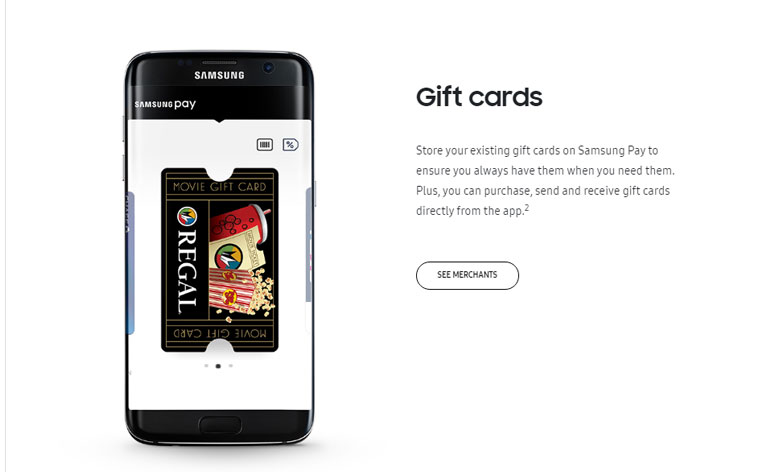 Discount gift cards drive sales both for the issuing merchant and for the retailer selling the gift cards so it should be no surprise that office supply stores, online auction sites and other physical and digital storefronts are selling discount gift cards these days. Guess where else you can buy new, unused discount gift cards? Straight from your phone.
With the Verizon Messaging App, United Plus Messaging App and Samsung Pay, you can buy new gift cards for less.
The great thing about buying gift cards from apps is that the gift cards are delivered and usable digitally. Storing gift cards electronically on a mobile device is one of the best ways to remember to use your gift cards.
HERE'S A TIP! Samsung Pay allows you to buy new gift cards at a discount plus load gift cards you already have into the mobile wallet. For many gift cards, when you load a gift card and enter the card number, the app will confirm the balance of the card as well plus allow you to check the balance at any time.
6. Amazon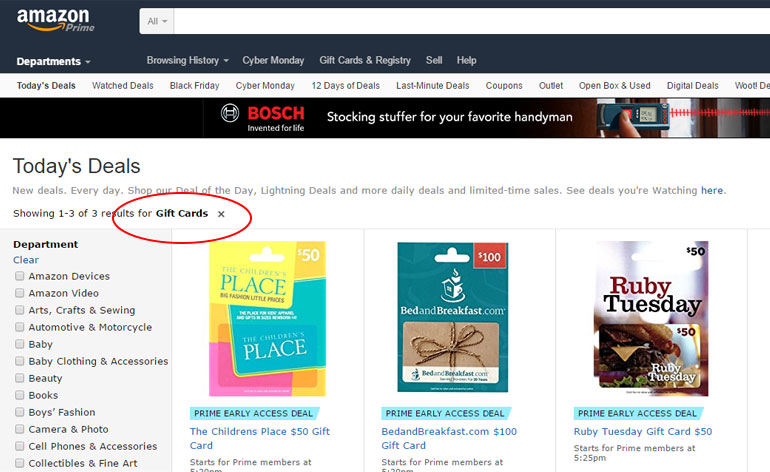 Amazon.com boasts the widest selection of egift cards available. When I reviewed top store egift card programs earlier this year, I found that Amazon has over 400 egift card designs for their own brand alone. That's huge. Amazon is now selling discount gift cards for other brands as well. Although the discounts are good, one of the tricky things about buying gift cards on Amazon is that the website doesn't post all of the discount gift cards at the same time like other stores do. Instead, Amazon releases a "deal of the day." So if you want to catch a discount gift card on Amazon.com, you'll need to stay alert and watch for gift cards as they become available.
HERE'S A TIP! Keep track of Amazon daily deals by following @amazondeals on Twitter, liking Amazon on Facebook and signing up for email alerts. This link shows you all the ways to track Amazon daily deals.
7. Grocery Stores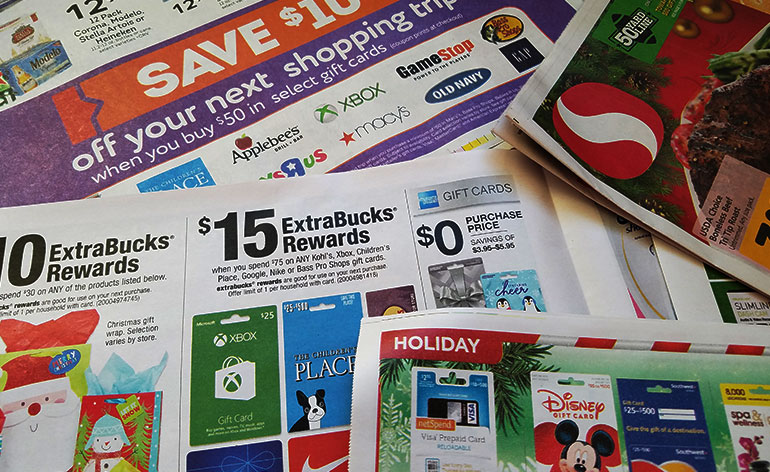 During major holidays, most grocery stores offer discounts via their in-store Gift Card Malls. Through various promotions leading up to holidays such as Christmas, Hanukkah, Valentine's Day, Easter, Mother's Day and Father's Day (plus Graduation time!), you will see gift cards on sale for less than face value, cash back coupons (e.g. $15 towards your next $25 grocery purchase when you buy $100 in gift cards) and extra fuel perks such as "receive 4X Gas Rewards on select gift card purchases." Buying gift cards at the grocery store can be convenient as well as cost-effective. Check your local Safeway, Giant Eagle, Kroger and other nearby grocers.
HERE'S A TIP! At grocery stores, the best gift card deals are generally offered early in the season like the week before Thanksgiving or right around Black Friday. Unlike a department store that has to push its sweaters at full price clear up to the last-minute and then discount the merchandise after the holidays, gift card providers trust that consumers will turn to gift cards as the day of celebration approaches so they don't need to offer quite the same incentives down the stretch. So when you see gift card offers in store ads, on display racks and in your grocery store app, it's time to act!
8. GiftCardMall.com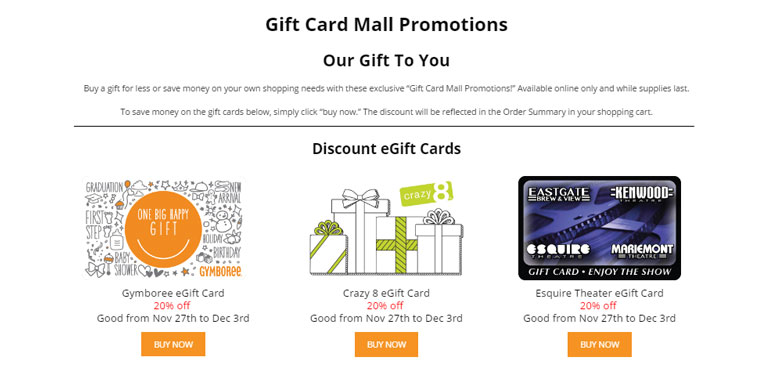 Not surprisingly, the leading supplier of gift cards at major grocery stores throughout the country also sells the same array of gift cards online. In fact, the online Gift Card Mall has even more variety to offer. What you might not know, however, is that some of those new gift cards are occasionally sold for less than face value. The best way to see what gift cards are on sale is to check out the Gift Card Mall Promotions page.
HERE'S A TIP! There is no promo code required to get the discounted price. Simply order the card you want and look for the savings in the "Order Summary" in your shopping cart. These deals are only available online at GiftCardMall.com.
9. GiftCards.com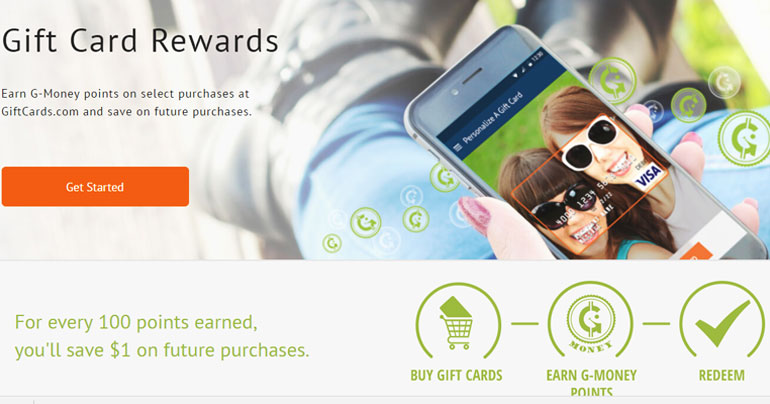 At GiftCards.com, we also have a promotions page where you can get deals such as free shipping, free greeting cards and a reward program we call "G-Money." For every gift card you buy from the site, you'll earn G-Money points that vary depending on the brand purchased. Sometimes bonus points are even awarded. For every 100 points earned, you'll save $1 on future purchases. To track the latest gift card promos and coupon codes, check out the GiftCards.com promotions page.
HERE'S A TIP! Points are determined by the full invoice total. For example, if an order totals $250 (including shipping and handling and processing fees), you will earn 250 points which can be turned into a $2.50 discount off of a future GiftCards.com purchase. And you don't have to remember to redeem your points. At checkout, you will be prompted to apply your G-Money reward to your purchase.
10. Gift Card BOGOS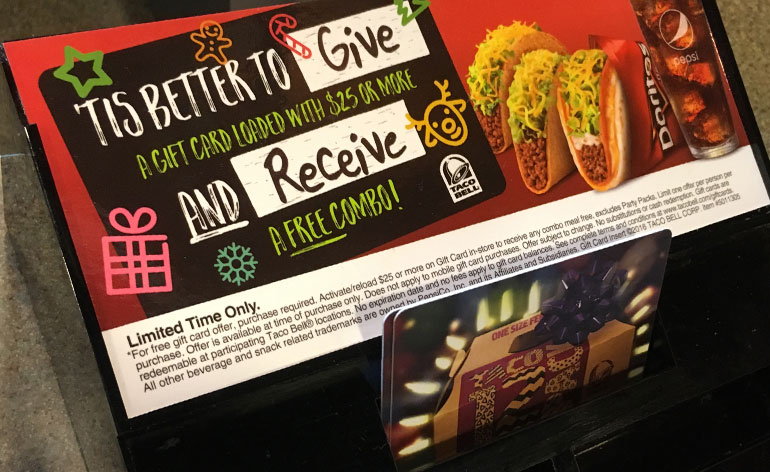 Many stores and restaurants (especially restaurants) offer "Buy one, Get one" gift card promotions during the holidays. On my current list of gift card deals, you'll find over 40 restaurants offering discounts such as "buy a $50 gift card and receive a bonus $10 gift card," "Receive a free combo meal when you buy a $25 gift card," "For every $25 gift card you buy, you'll get a $5 coupon for a future purchase" and so forth. The idea is that the giver gets a little reward for coming into the store or restaurant to buy someone else a gift card. Of course, you do not have to give either gift card away. If a restaurant you like to visit has a gift card deal going on, then buy the gift card to get the bonus card and use both to save on your next meal. Read this post on Gift Card BOGO Deals to see what is available this year.
HERE'S A TIP! The bonus gift card typically comes with restrictions such as how much you have to spend to redeem the gift card and when the gift card is redeemable. Generally I see that the BOGO gift cards are offered at the end of one calendar year and the bonus gift card is redeemable at the start of the next calendar year. So BOGOS available at the end of 2016 will be redeemable at the start of 2017.
Need Help Keeping Track?
There are so many places to look for discount gift cards that sometimes even I get overwhelmed. That's why I created this "be all, end all" post to keep track of the Top Deals on Discount Gift Cards Available. When I hear about a deal on GiftCardMall.com, on GiftCards.com, in grocery stores, on Staples.com, on eBay and beyond, I add it to this growing list of ways to save on gift cards.
The way I look at it, there is almost no reason to pay full price for anything these days. If you can find a discount gift card for the place you want to shop, then buy the card and pocket the savings en route to make your purchase. Even bank-issued gift cards like Visa and Mastercard can be purchased for less. Here's a post I wrote on how to save on Visa gift cards. Check it out before the holidays and let me know how much you save.
LIKE FRUITCAKE, unwanted gift cards have become something of an unpleasant holiday tradition. It's understandable that not every gift card will hit its mark. Maybe you received a gift card to a hardware store but aren't a DIYer, or to a fast-food chain but you're trying to eat healthier. These unwanted gift cards may go into a desk drawer and be forgotten for years – or expire. Which is a shame.
Can You Return Gift Cards?
Like unwanted gifts, consumers can sometimes return unwanted gift cards to the stores where they were purchased and get the money back. But as you would expect, the answer is often no.
"Retailer policies differ on the return of store gift cards," says Bethany Hollars, a spokesperson for BrickSeek, a price-checking website.
"Some retailers won't accept their return at all, whereas others will only issue store credit in their place, which basically means you end up with a second gift card," Hollars says. "Some stores, such as Target, will accept gift card returns so long as they are unused and you have the original purchase receipt, which can make for an awkward conversation if you received the gift card as a, well … gift. Your best bet is to read the retailer's return policy to see if this is a viable option."
Instead of letting them go to waste, here are four more options for your unwanted gift cards:
Regift Your Unwanted Gift Cards
"If there's someone in your life who you know would use the gift card, save yourself some money come Christmastime by regifting the card to them. This saves you money right off the top by eliminating one entry from your holiday shopping list," Hollars says.
Sell or Trade Gift Cards Online
Lots of websites will buy gift cards for close to their face value, Hollars says. "Compare the offer prices from several sites, such as Raise, Cardpool, CardCash, and Gift Card Granny, to ensure you're getting the highest price for your card," Hollars says. "Most of these sites will also let you trade the gift card instead, in exchange for a retailer gift card that you will actually use. Don't forget sites like eBay and Facebook Marketplace, where you can often sell gift cards for just a few dollars below their face value."
Here are some of the top websites where you can sell unwanted gift cards:
CardCash. With CardCash, you can sell gift cards or you can trade them for a certificate to a retailer where you do want to shop. As for the selling part, what you earn for your gift card will vary. For example, for a $25 Target card, you can expect to receive an offer for around $20. Generally, you can receive up to 92% of the card's value. You'll never get the full 100%.
Cardpool. With Cardpool, you can exchange unwanted gift cards and be paid in cash or in Amazon gift cards. The site will not accept a card that's worth less than $15. You'll receive up to 88% of the card's value. The Cardpool website lists the cards that it accepts. There are a lot, but you probably won't be able to sell a gift card to a regional store or restaurant.
GiftCash. Like other sites for selling gift cards, with GiftCash you simply type in the card that you want to sell and how much it's worth, and you get an offer. Generally, if it's a gift card to a popular store like Target or Best Buy, you'll probably get most of what the card is worth – somewhere in the high 80% range or low 90s. It accepts cards with a minimum value of $25 and will go as high as $2,500.
Raise. Unlike other sites on this list, with Raise, you are the one – not the website – who sets the price of your gift card. It's free to list your card, and if somebody purchases it, you'll give a 15% commission to the site. You can sell gift cards with partial balances, but any physical gift card has to have at least $10 on it. An eGift card needs to have at least $5 on it. All gift card balances must be under $2,000.
Donate Gift Cards
You also may want to check out CharityGiftCertificates.org/gce/. It also takes a portion for administrative costs, but it's a nonprofit, so that may not bother you.
GiftCardBank.org is another nonprofit (started during the pandemic) that specializes in helping people in financial distress.
You could also check with a local church, school or shelter and ask if it could use your gift card.
Sell What You Buy With Gift Cards
"A last resort," Hollars says, "would be to use the gift card to purchase an item that you can then turn around and resell for close to the same amount, or hopefully more, than the face value of the card. If you think you can find an item that will turn a profit, this might be a better option than selling the card online at a small loss."
It's a clever idea. But probably not a great idea if we're using a restaurant gift card, however.
8 Retail Stocks Booming Online
Updated on Dec. 29, 2020: This story was published at an earlier date and has been updated with new information.
Geoff Williams has been a contributor to U.S. News and World Report since 2013, writing about … READ MORE